Why visit?
The leading open source event in Europe!
Open Source Experience will be the key event for the open source software ecosystem and bring experts together in one place: Two intense days for discovering trends, growing your network and finding business opportunities in open source technologies and learning about its potential for innovation!
An exhibition space of more than 70 exhibitors with a friendly atmosphere for finding out what solutions are available, meeting other members of the community and networking.
The agenda is packed with 100% open content: over 150 conferences in the form of conferences, round tables and open debates with rich feedback and innovation to bring together the entire open source community and user companies looking for information.
A first edition held alongside SIDO Paris
SIDO, the leading event dedicated to the convergence of IoT, AI, XR, and robotics will bring together professionals from all industries for two days, with more than 150 exhibitors, 65 conferences and workshops led by 180 speakers. The association of these two events will help to break down barriers between technological universes. In companies' digital transformation on technologies such as AI, robotics, IoT and blockchain, open source technology is playing an increasingly important role.
PULSE! Your content & networking platform to heighten your visibility and boost your leads.
Meet your future technological partners and build your innovation roadmap!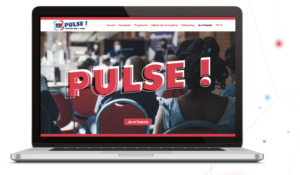 – – – – – – – – – – – – – – – – – – – – – – – – – – – – – – – – – – – – – – – – – – – – –
Did you know?
The French open source market is the biggest in Europe. With turnover of €5.68 billion in 2020, it saw annual growth of 8.8% (greater than the 5% average growth of IT).
The open source industry is a job-rich sector, employing 57,000 people in 2017 and estimated to create over 4,000 net jobs per year between now and 2023. Among the most sought-after skills for the future, developer, architect/consultant and system/support administrator profiles are the most often cited, two thirds (63%) of the desired profiles being at Masters level or above.